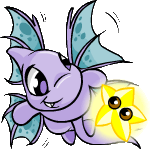 Like DL
Quite often, people ask how I can afford to maintain the guild with all the giveaways and theme week prizes that we give away. To answer that question, and let everyone in on my NP-making "secrets," I created a list here for everyone to see and use.

Below is a listing of the things I tend to do everyday when I log on to Neopets. They are listed in order I use them and I've found it to be best in this order. Clicking Alexia2002 (the Faerie Shoyru above) will open up your Quickref page to help you quickly and easily change your active pet for activities like Underwater Fishing.

Daily NP Run for dlfreak

Bank (to withdraw interest)
Qasalan Expellibox
Lab Ray
Altador Council Chamber (visit King)
Shop of Offers
Freebies (Once per month)
Wheel of Excitement
Wheel of Mediocrity (I usually skip this)
Wheel of Knowledge
Tombola
Fruit Machine
Coltzan's Shrine
Giant Jelly
Giant Omelette
Buried Treasure
Desert Scratchcards (Some prefer Winter)
Strength test
Deserted Tomb
Underwater Fishing
Healing Springs
Weltrude's Toy Chest
Stocks (1000 shares of a 15NP stock)
Guild Neosite (To check for new members)
Guild Message Boards (To chat!)

Member lindseyacron has compiled, on her website, a list of Neopets sponsor pages that could earn you more than 20,000 NP a day!
Link currently unavailable